ASSOCIATED STUDENT UNION
---
ELECTIONS INFORMATION
VACANT ASU POSITIONS 2022-2023
Be A Student Leader!
The Associated Student Union (ASU) is looking for students interested in being Student Representatives for fall 2022 through spring 2023. ASU Officers and Commissioners get many benefits:
Improve Leadership Skills
Monthly Stipends
Transcript Notations
Read the ByLaws for information on the positions. Go to ASU Bylaws.
Vacant Positions will be appointed by the Executive Council.
Apply at ASU Vacant Positions Summer Application.
Paper Applications are also available in the Student Life Office, 2nd floor of the Student Union Building.
Deadline to Apply: Wednesday, July 20th at 4:00 PM
The positions available are:
Vice President
Commissioner of Campus & Environmental Affairs
Commissioner of Ethnic & Cultural Affairs
Commissioner of Health & Wellness
Commissioner of Political Affairs
Commissioner of Publicity & Social Media
Commissioner of Student Life
Eligibility:
To be eligible for an elected or appointed office, students must comply with the Los Angeles Community College District Administrative Regulation (S-9).
Currently paid member of the ASU if enrolled in Summer classes. $3.00 for summer enrollment.
Have and maintain a cumulative and current GPA of at 2.0; Not on Academic or Progress Probation
Enrolled in 5 graded units at LAVC for Summer and/or have completed at least 5 graded units within the District in the prior semester.
Completed no more than 80 degree-applicable units in the District
Associated Student Union 2022-2023
Election Results
ASU Election Results were announced on Friday, May 6th at 1:00pm. For information on voter results please go to the ASU Ballot Results.
ASU 2022-2023 Elected Student Government Officers and Commissioners.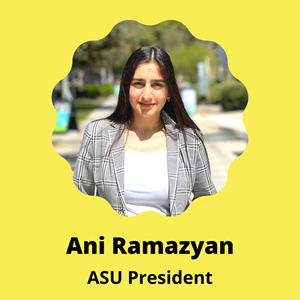 ASU President Ani Ramazyan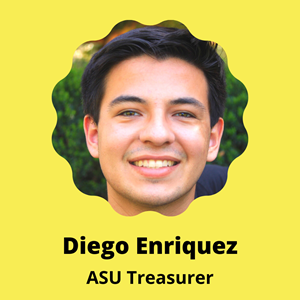 ASU Treasurer Diego Enriquez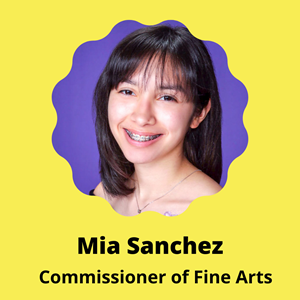 Commissioner of Fine Arts Mia Sanchez
The LACCD Student Trustee Election Results
LACCD Student Trustee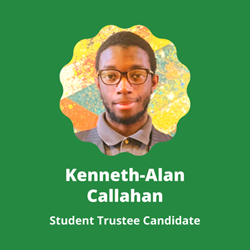 Kenneth-Alan Callahan
Personal Statement
ASSOCIATED STUDENT UNION
Office Hours and Location
Mondays to Thursdays: 8:30AM - 7:30PM
Fridays: 8:30AM - 1:00PM
Saturdays to Sundays: Closed
Student Union Bldg. 2nd Floor